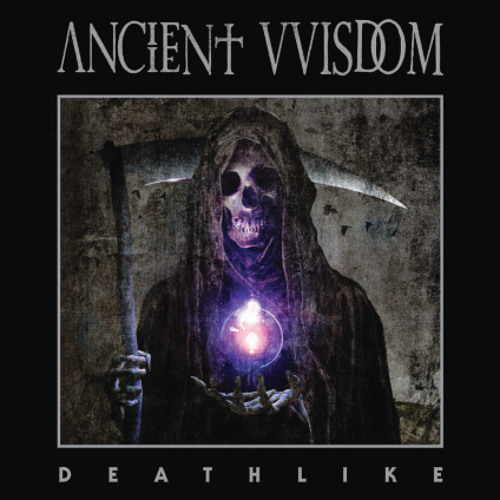 ANCIENT VVISDOM
DEATHLIKE
Prosthetic Records - Feb 5th 2013
The band members are:
Nathan Opposition, Ribs, Michael, TA , Mitchel K. Morris
In 2011 Ancient VVisdom blasted their way into the Occult Rock/Metal spectrum with their stunning debut album - A Godlike Inferno - which drew acclaim from critics and fans alike. Their blend of Occult Rock with Semi Acoustic Gothic Overtones won them a loyal following. It was a stunning album that made them a band to look out for in the future.
Roll on 2013 and Ancient VVisdom are back with Deathlike. Their eagerly awaited follow up to their superb debut album. Nothing much has changed in their music. They are still the messengers of the dark lord with a dark gothic take on everything rock and roll.
Though this time Ancient VVisdom are a lot more bleaker than ever before. Deathlike is an album that tells you everything about life and death with the pain that goes along with it.
Nathan is menacing and powerful as ever aided by his not-so-merry band of demonic outlaws. Tracks such as Deathlike, Far Beyond Good & Evil, Rebirth and Waiting To Die carry the same majestic blueprint of occult based riffs matched with intense lyrics that have a real dark and underlying menace about them.
The album has more quieter acoustic moments compared to the last album. If you think the band has gone soft on their new release think again. Remember these guys released a split album with Charles Manson as their first release. Deathlike sees them more comfortable with their surroundings. They never hold back despite the dark subject matter on show.
The dark and depressing lyrics matched with the brooding and atmospheric occult based music make Deathlike an album you cannot possibly ignore. Ancient VVisdom never shy away from life's hard choices or challenges. Why should they. It's always great that a band is truthful to their beliefs no matter how many people they piss off along the way.
Some of the lyrics cut right to the bone. Their poignant, painful and truthful in equal measure. It takes a band of real talent to make you feel all of these emotions at the same time. Ancient VVisdom have created a beautiful and understated masterpiece of any genre.
A Godlike Inferno heralded the arrival of a truly great band. Deathlike cements their reputation as one of the most original and brilliant bands of modern times. Deathlike will be remembered as one of the most defining records of 2013. It's a brave and bold work of art from a truly forward thinking band.
Deathlike is an exceptional record from a truly exceptional band.
Brilliant and Highly Recommended.

Ancient VVisdom Links
You can buy Deathlike from
Prosthetic Records
from Feb 5th 2013 on CD, Vinyl. Thanks to the kind people at Prosthetic Records for allowing me to review this. Much Appreciated.