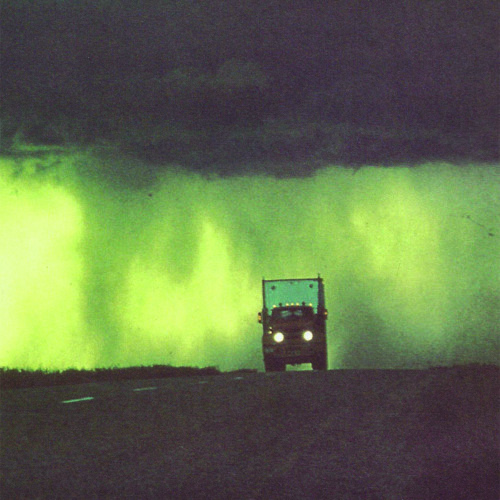 Shooting Guns is an Instrumental Doom/Space/Stoner Metal Band from Saskatoon, SK, Canada
The members are:
Laramee
Jay Loos
Steve Reed
Jim Ginther
Keef
Shooting Guns music is a highly dangerous combination of Doom, Space Rock and Stoner Metal held together by epic loud riffs that will leave a lasting impression by all that hear it.
Shooting Guns are about to release their excellent 2nd album – Brotherhood Of The Ram. A 6 song and 40 minute blast of finely tuned Doom/Stoner Metal riffs with a great Space Rock/Krautrock vibe. I only discovered this band as the guys asked for people to review their new album via Facebook. I sent a request and within 5 mins I received my promo copy.
Well 5 mins is all you need to fall in love with the colossal riffs Shooting Guns have in store for you. Brotherhood Of The Ram should be called – Brotherhood Of The Riffs – as the album is full of them. The 6 songs on show Shooting Guns are one of the most inventive instrumental bands I have heard in 2013. The way they blend ambient-based soundscapes with heavy doom/stoner metal riffs is nothing but a work of genius at times.
First track – Real Horse Footage – is a lean, mean groove based affair with plenty of ambient noises to match the fast-paced Doom/Stoner Metal cosmic vibes currently being played out before you. Imagine Karma To Burn coming out of a black hole in space then this is what they would sound like. This track shows what Shooting Guns are truly capable of when in full flight and it is only the first song.
2nd track – Truckers Never Learn – starts off with a groovy spacey rock riff to tell you that the band are going to take you into outer space and beyond. The song is driven along by a superb rhythm section playing at a fast paced to bring this almighty 9:27 minute epic to a wonderful finish. Before that moment arrives, Shooting Guns will expand your mind with sonic soundscapes and psychedelic riffs powerful enough to cause a mini earthquake. So sit back and hold tight as the band take you on a progressive journey into the unknown.
The album does have a trippy vibe that will make you feel you are losing grip of all reality. However, it is the perfect mood for this excellent album. It gives Shooting Guns a very dangerous edge indeed compared to other instrumental rock bands and it is a feeling the band revels in….
3rd Track – Predator II – is one of the albums standout track and one of the shortest. It features some wonderful piano and keyboards playing against the louder, heavier and hazier guitar riffs. This song makes you feel you are in dangerous territory here. Anthemic Post-Rock ambient vibes draw you into a false sense of security before the band lay down some evil heavier riffs to destroy your soul to. Yeah I can see why this song is called Predator II. It starts all beautiful and quiet before the darkness finally takes over. It will leave you breathless from the word go.
4th Track – Go Blind – is another Space Rock/Stoner Metal odyssey taking you on a journey into the unknown. It starts quiet before the superb bass heavy riffs explode into sonic warfare. This is the perfect balance of 60s/70s Psych Rock and modern based Doom/Stoner Metal carnage. Just wait until the 4th minute when the band decides to venture into heavier territory.
5th Track – Brotherhood Of The Ram – is a slow-burning affair that shows the band at their most creative. They have added some great doom and gloom guitar riffs matched against the sublime peaceful Post-Rock vibes. Powerful keyboards and drums add a real sense of unknown danger to this track.
6th Track – No Fans – is the best track on the album. A wonderfully written haunting track full of eerie based riffs that blends elements of Doom, Post-Rock, KrautRock and Stoner Metal to devastating effect. This track is literally jaw-dropping. It will leave you on the edge of your seat. When I heard this track all I could think of was – WOW – where did that come from. It has a lush Post-Metal vibe that Pelican and Isis would be proud to call their own. It is the perfect ending to an amazing album.
Shooting Guns have excelled themselves here in every department. It's brilliantly played and produced by everyone involved. This is an album you can listen to over and over again.
Awesome.
Brotherhood Of The Ram will be available to buy from October 15th 2013.
Thanks to the guys for sending us a copy to review.
Check The Band From Links Below
Official
Facebook
BandCamp