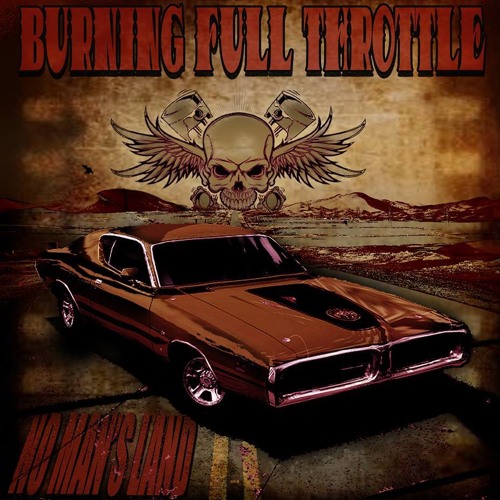 Burning Full Throttle is a Desert Rock/Stoner Rock Band from Budapest, Hungary
The members are:
Vincze András: bass,vocal
Mundi Csaba:guitar
Molnár Ferenc:guitar
Killer Miller:drum
Burning Full Throttle

On the 15th of november 2013 the hungarian stoner/drive rock band, Burning Full Throttle released their first album, called 'No Man's Land'. This material contains 8 washed-in-fuzz, road-eating tracks which were recorded in Perfect Noise Recording Studio by Mátyás Koncz. The full album can be found on the band's Soundcloud page, and it will also be available for downloading and in CD format.

Biography

This dirty, garage rock band was founded in 2005 in a basement in Kőbánya, Budapest, Hungary. After some gigs the band had the chance to show the smell of burning tire in Germany, but even this tour was not enough to hold the band together and they closed the door of their basement for some time. Since 2010 the band has been very active, which led to their album in november 2013 called 'No Man's Land'. Béla Badarász, who played the rythm guitar on the album has left after the recording and was replaced by the former Düne guitarist/vocalist Csaba Mundi.
Oh Hell Yeah!!! - Now here is a brilliant Stoner Rock album to check out packed full of great riffs to rock out to. Burning Full Throttle are a band you need to check out now as their debut album - No Man's Land is fucking superb.
30 mins of in-your-face action packed riffs to slay you with. Once this album starts then it's time to buckle up as Burning Full Throttle are going to take you on a hell of a ride.
First track - The One To Blame - shows you what this band can do. Blazing riffs with superb grizzled vocals adding a real sense of danger to proceedings. It's been a long time since I have listened to a pure Stoner Rock album like this. Just like the brilliant album cover this album comes at you at over 100mph. These dangerous outlaws have a job to do and that's to rock the fuck out.
They have plenty more great tunes to entertain you with such as No Man's Land, The Flight, Downtown Paradise and my fave No Sleep Till Mexico. Burning Full Throttle are definitely influenced by the legendary Desert Rock Scene and bands such as Kyuss, Fu Manchu, Fatso Jetson and other bands of that ilk. Plus I can hear a slight Clutch influence as well.
Look this album is just one excellent ride into Stoner Rock Heaven. You want riffs from a band who know how to rock the fuck out. Well No Man's Land is the album for you. What's even better is the band have this available for free download on
Soundcloud
now. So headover there and download this brilliant album now. You really don't have no excuse to pass this by.
Excellent and Highly Recommended.
Check The Band From Links Below
Facebook
Soundcloud